TOP 25 MUST READ FRENCH WRITERS!
Bonjour, et bienvenue à ma liste de mes préférés romanciers français . La France a certains des meilleurs grands littéraires dans le monde.
'Hello, and welcome to my list of my favourite French novelists. France has some of the best literary greats in the world.'
Though my French is about as good as Delboy's, j'adore French culture, cuisine and literature. You can tell a lot about a country from their books and France is clearly a nation of philosophers, thinkers and lovers.
TOP 5 CLASSIC FRENCH NOVELS!
1.
Guy de Maupassant - Bel-Ami - 1895
A capitalist political novel about the French colonisation of North Africa set during the 3rd republic.
2.
S.G Colette - Claudine at School - 1900
This witty novel features a cheeky schoolgirl and her friends at school getting up to misadventures.
3.
Marcel Proust - In Search of Lost Time - 1913
This classic has become known for its million word count.
4.
Marguerite Duras - The Sea Wall - 1950
A novel inspired by the film director's life.
5.
Georges Perec - Things - 1965
A couple want for everything while a student wants for nothing.
TOP 5 FRENCH ADVENTURE NOVELS!
1.
Alexandre Dumas - Georges - 1843
A swashbuckling romantic adventure set on a plantation in Mauritius that deals with 19 Century racial issues.
2.
Jules Verne - Five Weeks in a Balloon - 1863
Three men fly across Africa in this misadventure novel.
3.
Henri Alain-Fournier - The Lost Estate - 1913
A well liked boy disappears from school and returns with tales of a girl, a party, and a strange house, and spends his life looking for it in this bildungsroman.
4.
Louis-Ferdinand Celine – Journey to the End of the Night - 1932
The travelling life on an antihero unfolds in this must read novel that's filled with contempt for society.
5.
Michel Houellebecq - Whatever - 1994
This novel features a lonely rich chain-smoking antihero who writes strange animal stories.
TOP 5 FRENCH CRIME NOVELS!
1.
Victor Hugo - The Last Day of a Condemned Man - 1829
A man recants his last hours and future fate - the guillotine.
2.
Anatole France - Crime of Sylvester Bonnard - 1881
Old scholar becomes a criminal while searching for a literary document and discovering his family tree and himself.
3.
Henri Barbusse - Hell - 1908
A voyeuristic man compressively studies and spies on the life of the family next door through a peephole between their homes.
4.
Albert Camus - The Stranger - 1942
A normal man is drawn into an absurdist murder plot on a beach in Algeria.
5.
Fred Vargas - Three Evangelists - 2006
An opera singer wakes to find a new mysterious tree in her garden then contacts an ex-cop and three historians to investigate but are eventually needed to investigate the opera singers murder.
TOP 5 FRENCH ROMANCE NOVELS!
1.
Gustave Flaubert - Madame Bovary - 1857
A woman who indulges in the romantic notion found in sentimental novels marries a doctor but learns that life is not fiction so has an affair before spiralling into despair.
2.
Emile Zola - Therese Raquin - 1867
A girl's mother dies and her father gets her horrid aunt to take of her who eventually marries her to her cousin before she has an affair with one of his friends.
3.
Honore de Balzac - At the Sign of the Cat & Racket - 1829
This collection of three pieces features early realism themed comedy and romance.
4.
Francois Mauriac - Young Man in Chains - 1913
A student longs for love but lives in self imposed isolation.
5.
Simone de Beauvoir - She Came to Stay - 1943
A vengeful book in which the author attacks a woman who tried to ruin her life with philosopher, Sartre.
TOP 5 FRENCH PHILOSOPHICAL NOVELS!
1.
Denis Diderot - Jacques the Fatalist - 1796
This classic book from the Enlightenment features the philosophical topics of free will and destiny.
2.
Italo Svevo - Zeno's Conscience - 1923
A neurotic Italian businessman man writes down his confessional deluded thoughts for a psychiatrist is the modernism novel.
3.
Andre Malraux - Man's Fate - 1933
This tale is about the Chinese revolution and follows the theme of freewill.
4.
Jean-Marie H. Le Clezio - The Interrogation - 1963
This novel is an internal adventure for a solitary man - Adam.
5.
Marie Darrieussecq - Pig Tales - 1996
Orwell meets Kafka in this political humorous novel.
7SS STAR PICK - Journey to the End of the Night
X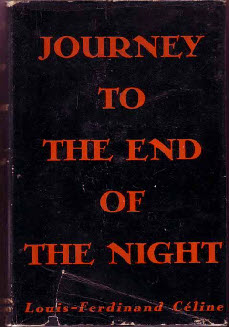 MORE TOP BOOK RECOMMENDATIONS